2022-05-10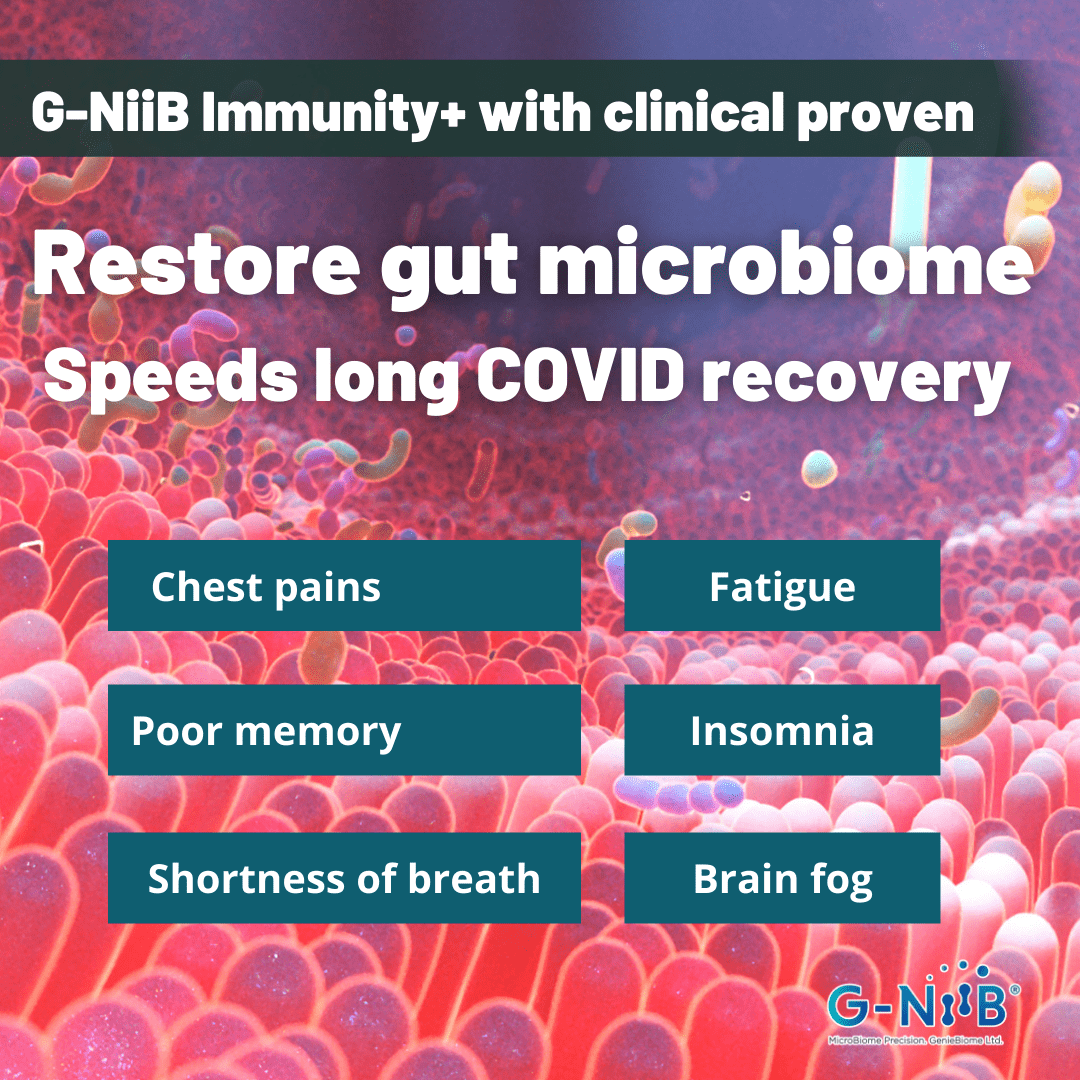 The Omicron variant of COVID-19 has gradually replaced Delta and ravaged the world. Although it is reported to be relatively mild, the post-acute COVID-19 syndrome (known as long COVID) such as shortness of breath, chest pains, dizziness, poor memory, insomnia, 'brain fog' and other symptoms cannot be ignored. According to an earlier study led by the National Centre for Infectious Diseases (NCID) at Singapore, one in 10 recovered COVID-19 patients who were unvaccinated had persistent symptoms six months after infection.
Long COVID patients had a less diverse gut microbiome
Gut microbiome composition may be linked to a person's risk of developing long COVID many months after their initial infection. Patients with long COVID had a less diverse gut microbiome, with significantly less good bacteria and more bad bacteria. As for patients without long COVID, their gut microbiome was more diverse, similar to those who had never been infected.
A study by the Faculty of Medicine at Chinese University of Hong Kong (CUHK) found that 81 bacteria associated with various types of long COVID symptoms, such as persistent respiratory symptoms closely related to opportunistic pathogens. Patients were found to be lacking in Bifidobacterium adolescentis, Bifidobacterium longum, and other beneficial bacteria known to enhance immunity.
The study results also showed that 76% of patients experienced at least one symptom including fatigue (31%), poor memory (28%), hair loss (21%), anxiety (21%) or difficulty in sleeping (21%) within six months of recovery, and persisted for four weeks or more. Researchers ruled out factors such as age, gender, co-morbidities, use of antibiotics or antiviral medication, and the severity of the infection, reflecting that the composition of the gut microbiome is the main cause of long COVID.
G-NiiB "Immunity+" microbiome precision formula (SIM01) is licenced exclusively from CUHK. The main ingredients of the formula consist of unique Bifidobacteria strains, including B. adolescentis and B. longum, which have been clinically proven to alleviate the condition of COVID patients. Not only does it help patients improve immunity but it also promotes the growth of Faecalibacterium prausnitzii, a beneficial bacterium that regulates immunity.
The latest research results show SIM01 accelerates antibody formation against SARS-CoV-2, reduces nasopharyngeal viral load and pro-inflammatory immune markers, and promotes recovery. The study was recently published in the Journal of Gastroenterology and Hepatology.
Results based on CUHK clinical trials the formula achieved in the COVID-19 patients:
100% symptoms resolution in 2 weeks

88% of patients developed SARS-CoV-2 IgG antibody at week 2

63% Reduction in blood levels pro-inflammatory cytokines

Restored gut dysbiosis in hospitalised COVID-19 patients
According to a study by CUHK, patients with long COVID have distinct gut microbiome dysbiosis.
Eighty-one bacterial species were associated with different categories of long COVID and many species were associated with more than two categories of persistent symptoms.
Several species known to boost a person's immunity were depleted in those with long COVID, including Bifidobacterium adolescentis, Bifidobacterium longum and Bifidobacterium pseudocatelunatum.
A patient's gut microbiome configuration at admission may affect his/her susceptibility to long-term complications of COVID-19.
Benefits of G-NiiB Immunity+
Boost Immune System
Unique microbiome formular (#SIM01) with proven clinical benefits in the patients of the prevalent virus
Contains precious live bacterium Bifidobacterium adolescentis for antibody boosting
3 Bifidobacterium carefully selected for Asian gut based on AI technology
500X more effective at improving probiotic survival in gastrointestinal fluids.
Patented microencapsulated technology from Italy.
Water soluble powder for easy ingestion.
Help with Constipation and Diarrhoea
Ease symptoms of Long COVID
Made in Italy