2021-06-28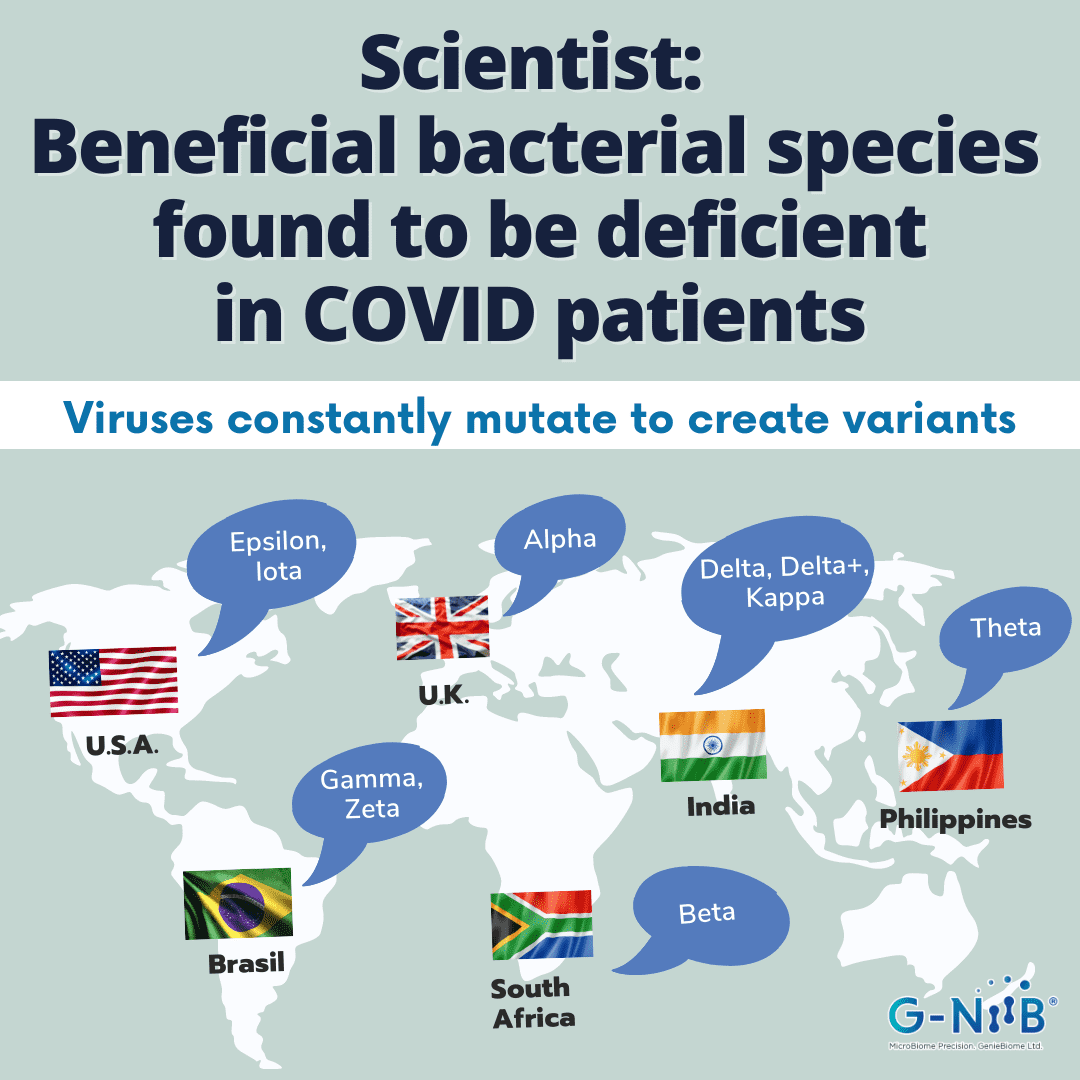 COVID-19, the novel coronavirus spreading across the globe has compelled governments around the world to implement a range of restrictive public health measures such as lockdowns, social distancing and quarantines to reduce local transmissions of the virus. From the beginning this might have been effective in slowing down the spread, but viruses constantly mutate to create variants, just like the so-called 'Delta' and 'Delta Plus' strains first detected in India. Then, a new 'hybrid variant' detected in Vietnam is believed to be a combination of the U.K. (currently Alpha) and Indian (now Kappa and Delta) strains of the virus. Despite coronavirus variants are sweeping the globe and being more contagious than the previous variants, the cause of the virus remains unknown. Nevertheless, recent research has discovered that the common symptoms of gastrointestinal problems in patients i.e., the imbalance of the gut microbiome (dysbiosis) is closely related to the epidemic. Enhancing immunity is expected to resist invading virus and alleviate the epidemic.
Professor Siew C. Ng, Associate Director of the Centre for Gut Microbiota Research at The Chinese University of Hong Kong, explained in an interview with Scientist American that several gut microorganisms with known immunomodulatory function were depleted in patients with COVID-19. Their depletion might be a factor in the phenomenon known as the 'cytokine storm'. A number of beneficial bacterial species were found to be deficient in the patients, and the degree of microbiome disturbance correlated with disease severity and increased signs of inflammation. Professor Ng advised that increasing fibre intake, consuming probiotics and exercising are known to be good for the gut microbiome.
The symptoms of COVID patients differ widely, from loss of smell to blood clots, strokes to limb pain. One of the most common non-respiratory symptoms is gastrointestinal disorder as half of patients experience nausea, diarrhoea and/or abdominal pain. As for Delta variants patients, stomach pain, nausea, vomiting, loss of appetite, joint pain, severe tonsilitis, and even thrombosis may also occur.
Professor Harry Sokol, who studies the relationship between gut microbes and the immune system at Saint-Antoine Hospital in Paris, believed that in the early phase of infection, there is an alteration of the gut microbiota leading to a decreased production of microbiota-derived substances that are important in controlling the infection. He added, the decline in certain microbes might impact the integrity of the gut. These microbes normally generate substances that help maintain the gut lining. Lower levels of key bacteria might therefore cause a 'leaky gut', which could ramp up cytokine storms that can cause the extensive organ damage seen in severe COVID cases.
G-NiiB 'Immunity +' is a unique microbiome immunity formula containing live freeze-dried 'good' bacteria with patented microencapsulation technology from Italy, and heat-resistant prebiotics to replenish beneficial microbes in the human gut. Using our proprietary database of over 10,000 subjects, big data analysis and machine learning algorithms, G-NiiB Immunity+ was formulated with an optimized 3+3 best ratio of live good bacteria and prebiotics to provide the BEST result and achieve our health goal.
~~Order Now~~
Delivery in Singapore: https://bit.ly/Lazada_SG_EN
Delivery in Malaysia: https://bit.ly/Lazada_MY_EN
The Uniqueness of G-NiiB Immunity+
The first and only microbiome precision formula based on scientific data of COVID-19 patients.
Immunity+ is clinically shown to be effective and safe in local novel virus patients.
Researched and developed by The Chinese University of Hong Kong.
Contains the 3+3 best ratio of live good bacteria and prebiotics based on the precise AI machine learning result
Adopted patented microencapsulation technology from Italy ensures sufficient good live bacteria reach your intestine to deliver therapeutic actions and a long shelf-life.
Reference:
Yeoh, Y. K., Zuo, T., Lui, G. C., Zhang, F., Liu, Q., Li, A. Y., Chung, A. C., Cheung, C. P., Tso, E. Y., Fung, K. S., Chan, V., Ling, L., Joynt, G., Hui, D. S., Chow, K. M., Ng, S., Li, T. C., Ng, R. W., Yip, T. C., Wong, G. L., … Ng, S. C. (2021). Gut microbiota composition reflects disease severity and dysfunctional immune responses in patients with COVID-19. Gut, 70(4), 698–706. https://doi.org/10.1136/gutjnl-2020-323020
Sokol, H., Contreras, V., Maisonnasse, P., Desmons, A., Delache, B., Sencio, V., Machelart, A., Brisebarre, A., Humbert, L., Deryuter, L., Gauliard, E., Heumel, S., Rainteau, D., Dereuddre-Bosquet, N., Menu, E., Ho Tsong Fang, R., Lamaziere, A., Brot, L., Wahl, C., Oeuvray, C., … Trottein, F. (2021). SARS-CoV-2 infection in nonhuman primates alters the composition and functional activity of the gut microbiota. Gut microbes, 13(1), 1–19. https://doi.org/10.1080/19490976.2021.1893113